--
10 years of rockin' and rollin'
10 years and not slowing down one bit. The band is firing on all cylinders and has released this CD on Goofin' Records to kind of celebrate their anniversary. Naturally enough, the band is looking back and you get to hear some of their best songs, they've churned out over the years. But, Doctor's Order is also looking forward in more than one way. The recordings here are proof that Doctor's Order are still going strong. 2008 and we still can bet our money on this trio from Finland. Thanks to keep the rock fire burning.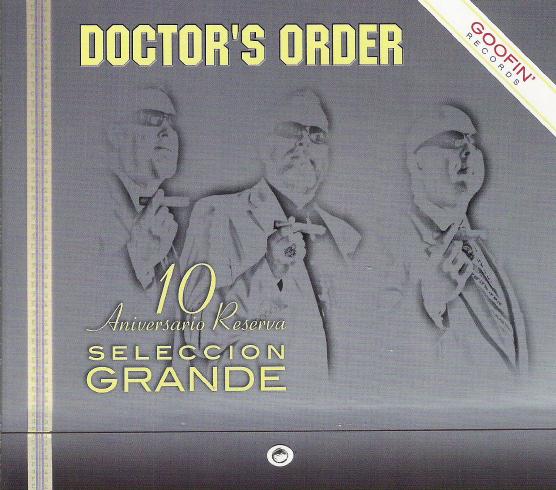 Just to make it very clear, even though you might have all of their recordings previous to this one here, you still need this release. This is a kind of "Best Of" and yet it isn't. Of the 17 songs on offer, 15 are old chestnuts, reworked almost beyond recognition. 2 tracks are brandnew and never before released.
Speaking of brandnew, all of the songs have been rerecorded with their current line-up. But this isn't just rerecording for the sake of using up studio time. The songs sometimes differ enormously from what you've heard up to now. One of my alltime favourite songs ("So It Is") even features a piano. Holy cow, what have they done to my song, Ma? Fantastic! It's not just that the music has been radically reworked, it's also that some lyrics have been brought one notch up. The bartender is in triple trouble now. Some of the effects on this CD are naturally enough more in the vein of gimmicks. But this makes the whole listening experience even more livelier.
I've spoken about how the very first album of Doctor's Order caught my ear from the word go. It was the roughness of the recording. The no prisoner held approach. And, of course, the track "So It Is" (amongst the other outstanding songs). They're a long shot from their earlier recordings in terms of simplicity, although, this is not the first CD where the band used a more sophisticated recording facility. But fear not, the band is still anchored in the hot and sweaty, rough and kicking type of rock'n'roll. These guys will never make a CD for your candle light dinner. I'll put my money down on it.
Besides releasing this CD for their 10th anniversary, it's also to present their new drummer, Kimmo "Mighty Man" Oikarinen. I think the "Mighty Man" does have something in common with "Dirty Harry" (the previous drummer), as both are, what Teppo calls, swinging drummers. As special guests you get Mick Green on one track (guitar on "Big Bad Doc"), Kaj Erik Ensio Takamäki on harmonica, Juha-Antero Nättilä on piano, Petti "Komisario" Palmu on saxophone and Juha "Jassi" Takanen on percussion.
Kimmo "Mighty Man" Oikarinen and Petti "Komisario" Palmu are, of course, together with Grande-Archie in the "Mighty Four". Ensio is their harmonica player of choice since, I believe, the times the band started. I don't know about the other two (Juha-Antero Nättilä and Juha "Jassi" Takanen) though. If good rocking is your cup of tea, don't hesitate to buy this CD either directly from the band, from Goofin' Records or from any decent outlet in your hamlet. Goofin' Records does have a good distribution, your dealer can get the CD for you.
Again, even though this might look like a "Best Of" from the outset, it really isn't. This is not the same songs churned out again. You don't have to have a masters degree in music theory to hear that the songs are very very different from what you've heard before. And how enjoyable they are!
August 3, 2008
--