I don't know if I can take this curve without losing control over the steering wheel. As you well know, I have Doctor's Order in the highest possible regard for one or two (or three or four) reasons. One is for their ability to write original songs and not to relay on tired old chestnuts played all over the world in every dive imaginable. The last thing I actually expected was a covers only CD. Call me doubting Thomas (not really, I didn't think for one second that the band wouldn't pull this off), but I surprised myself at the speed at which I adapted to this album.

First of all, the CD might consist of thirteen well (and not so well) known Rock'n'Roll tracks, but this is really a Doctor's Order CD. The band give their special treatment to these songs and do make them their own. This is not just hot air blowing. The sound is genuine, not some aping of long forgotten heroes of R'n'R. I've heard one or two Doctor's Order CDs in my life. They get a regular merry-go-round every now and then in my CD-player. But with this album I realised, you could blindfold me and I'd still find out wether Grande-Archie is playing guitar or not. This distinctive style is his, and his only. Don't ask me what it is. I could describe it at length and still not get to the point.

Mighty Man Oikarinen is the new guy in town and he happens to beat the skins. Being the amateur that I am, I've listened to similarities or differences to either the Mad Man or to Dirty Harry. I might put myself out on a branch, ten meters up in a tree, but the Mighty Man does sound a bit like the Mad Man. Somewhere I read, that he's a very swinging drummer (that's probably on the Doctor's Order website), but considering that Dirty Harry was called to have this quality, I think the Mighty Man is a somewhat straighter player. In a way, it's back to the roots (in every sense of the word) for this combo. As both previous drummers were very good and knew their trade, a comparison is by no means meant to put anyone down. As a matter of fact, I like the way the Mighty Man does his job. Thumbs up!

The line-up is something to behold as well. Knowing the band as long as I do, what's a Doctor's Order release without their bass player rumbling through their repertoire on vocals? Well, it's at least something you have to get used to. The honour roll is as follows:

Johnny Spence - Vocals
Grande-Archie Hämäläinen - Guitar
Teddy Bear Nättilä - Bass
Mighty Man Oikarinen - Drums

Special Guests:

Mr. Breathless - Piano
Timo Tarkela - Sax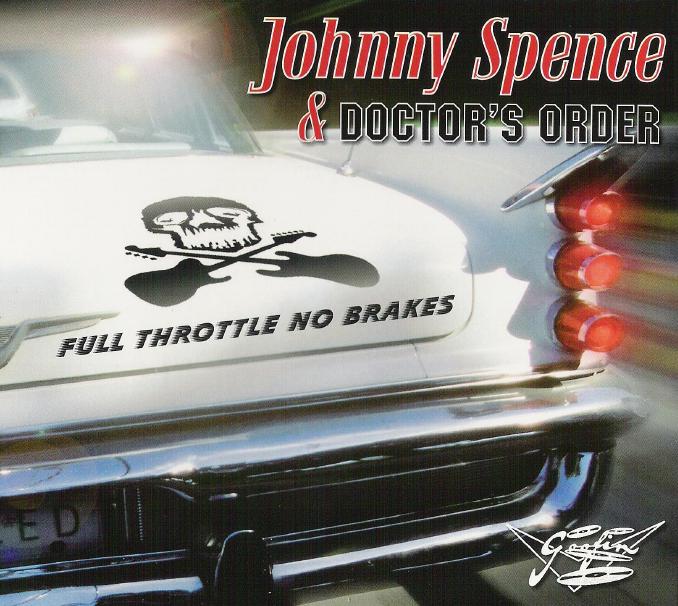 Johnny Spence on vocals? Yes Sir, the Pirates singer makes a guest appearance on the CD. Teppo has dropped vocal duties and handed over the mic to Johnny Spence. This is delicate, as the balance is shifting between a Pirates release and a Doctor's Order album. When Johnny is singing, and that's most of the time, you really get the feeling there's a Pirates line-up there. On the other hand, you hear Grande-Archie and you know where you are. Of course, the whole thing is marketed as a Johnny Spence solo release. Sorry, but it ain't so! First of all, to be a real solo Johnny Spence album, he'd have to have played the bass guitar as well. This is a unit: Johnny Spence is vocals and bass. Teppo Nättilä is vocals and bass. Forget it, this is a collaboration, even though the Pirates logo also appears on the cover of this CD (see above). Second? I don't know second!
Back to guitar playing. You want to know which song is the most typical Doctor's Order feel? Try "Down The Line" with the vintage guitar sound only Grande-Archie seems to be capable of. O.K., the sax is not so typical for the band, but they have included it in many of their studio tracks. Most of the songs are ancient Rock'n'Rollers given the 21st century treatment. That's to say, Doctor's Order are not trying for a fake 50's sound. Their style is very contemporary and everything else but old-fashioned. With about the exception of "Hello Josephine" and "Bye Bye Johnny" they do not cover the real biggies. If I should bet my money on it, a song like "Dr Feelgood" is probably owed to Teppo's insistence. On the other hand, I'll take another guess, "Hot Wheels" (by finnish national monument rockband Hurriganes) has been included because Goofin' Records wouldn't have a no for an answer.
I've done my slalom through this highspeed racecourse. Even a full covers album by Doctor's Order is something to enjoy. Especially when given such an excellent treatment. And, of course, not forgetting their lead singer for this project, Mr. Johnny Spence. A job well done! I'm not sure, should I file this under P like Pirates or D like Doctor's Order. Of course I could get me a second copy and be done with this question. The album has been released by Goofin' Records and can be ordered directly through their mailorder service via their website. Or you can get yourself a copy directly through the band. And I've seen several big platforms on the internet that are selling this CD.
Information and bookings:
www.doctorsorder.net
email: docorder@nic.fi
phone: +358 40 730 1578
CD costs EURO 15.00 for each CD (includes postage)