Folks, I know this is a difficult one. You've all heard this from me before and you have a hard time buying the gospel, I'm going to preach here again. Is there anything at all, I haven't said about Doctor's Order before? No, I don't think so. I might as well keep this focused on Johnny Spence. I might, but I won't. Here's the second Johnny Spence/Doctor's Order outing and ... I'm impressed. Yes, sure, you've seen it coming by a country mile. Bear with me, I'll tell you, why this is a CD not to be missed.

My first impression, about two songs into the CD, on the very first spin, this is a totally relaxed album. And its full of surprises. I was at home, cooking dinner, while I had my first go at the album. Almost dropped the pasta machine and a couple of kilos of metal meeting your toes on the ground, is certainly not my idea of fun. I just about managed to hold onto the thing. What had happened? The track "A Shot Of Rhythm & Blues" was on, and, I still don't believe this, a female duo of background vocalists were suddenly to be heard. Now, I was probably expecting a lot of things, but not this. I can tell you, this took me on the wrong foot. A very neat idea and thumbs up for adding the ladies on four tracks. Makes it that much lighter.

One thing you notice immediately as well, is the very clean production. I like my Doctor's Order a bit on the rough side, but this is again, strictly speaking, not a release of the band on their own, so I suppose, they're in the green with a slight deviation of their usual way of handling matters. You get fifteen songs, most of them cover versions. Fear not, they are well chosen and make for an interesting program. There's only one original by Johnny and the band, this one's the title track, "Hot And Rockin'". And, can I say this, it's a super duper song? I just did. Fits like a glove.

There's one cover version of finnish Rock'n'Roll heroes Hurriganes, "Oh Baby Doll". I know, this is very dangerous ground, but here I go anyway. Johnny's vocals on this release reminded me sometimes, and I mean sometimes, of Lee Brilleaux! Now I've said it, where's the way to Golgotha? Do your job! Seriously, I just can't help it. He's doing the same further back in one or the other song, but usually not completely throughout a given track. I've really never noticed this before with Johnny. But, of course, it's a top class performance of his any which way. Line-up is as follows:



Johnny Spence - Vocals
Grande-Archie Hämäläinen - Guitar
Teddy Bear Nättilä - Bass
Mighty Man Oikarinen - Drums

Special Guests:

Mr. Breathless - Piano
Ensio Takamäki - Harmonica
Elisa Korjus - Backing Vocals
Maria Hänninen - Backing Vocals
Juha Takanen - Percussion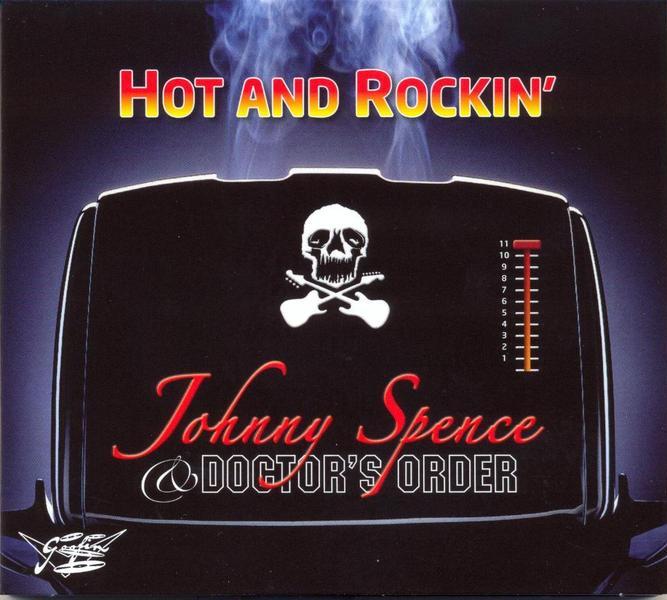 Another surprise, at least to me, is Ensio Takamäki, playing harmonica on two tracks. You certainly remember, Ensio was playing quite frequently with Doctor's Order on their records as well as some live shows. That is, until some time ago. I haven't seen his name mentioned in a while and his name popping up on the inside cover of the CD is somehow the icing on the cake. Johnny Spence is again on vocal duties only and not playing his usual bass guitar, what with Teppo Nättilä occupying the post as Mr. Bassman. Somewhere I have been mentioning something about Mighty Man Oikarinen being a swinging drummer. Well, he's just proven himself again. And then, there's Grande Archie Hämäläinen on guitar. You all know what I think of his guitar playing and he's delivered a few licks that are worth savouring. Repeat modus, please! No, really, this band is on top of their game right now.


The graphic design of the cover is worth a mention as well. An excellent job! I've been looking very hard to squeeze in a word of criticism sideways, but I don't find a fault with this release. Quite the contrary, this CD is going to my on my shortlist for best album of 2011. You bet it is. And, I don't have to take a wild guess, this will be on heavy rotation for some time to come. The CD has been released by Goofin' Records (GRCD 6169) and can be ordered via their website. Go to http://www.goofinrecords.com or ask your local dealer. Goofin' Records also does have a decent distribution and you might get it from the major Rock'n'Roll/Rockabilly mailorders in Europe.


Information and bookings:
www.doctorsorder.net
email: docorder@nic.fi
phone: +358 40 730 1578


P.S.: Besides the aforementioned Johnny Spence and Doctor's Order "Hot And Rockin'", there are two more originals on the CD, one being "Mean Machine" an unreleased Johnny Spence/Frank Farley Song and the other "Meet Me With Your Hi-Heels On", which is entirely of Johnny Spence's doing. Just to put this right, the wording in the above review might have led to some confusion.