"Mean Business" marks the band's 15th anniversary and was released in May 2013 on the Maaseutumusiikki label. What you get, is a band that's not been slowing down. A band who's level is constantly high and with this album they have again proven their worth. I'm not going into the details about where the band is coming from, what their general take on music is or something similar, because I believe, I'm preaching to the already converted. Or as they say around here, I'm not pouring water into the river Rhine.
Eleven new studio tracks and six bonus live songs from their Gastro Blues festival appearance in Hungary in July 2012 are on offer here. Let me say first, that I should know a bit about Doctor's Order music by now, having heard all of their releases and been to a couple of their gigs. And let me further say, that I'm moving out on thin ice here, but the fact is, I'm quite surprised by this CD. While it's still the trademark Doctor's Order sound, a lot is quite unheard of. The starter "Serious" with its mean, dark background sets the mood and really, is a killer entry to this album. It's right up in your face and, it gets you on the wrong foot, because this is not what the following sixteen tracks are all about.
The overall feeling is much more uplifting and on a positive note, than was to be expected, judging from this one song alone. Of course, such a strategically placed song can lead you down the wrong path. From the word go, you're in the grips of this album. But moods change very quickly and by the time "And The Show Goes On" comes up, there's a sort of no-nonsense feeling. Its delivery is as dry as can be. The band plough through this ditty with a vengeance. Especially with this song, I've got a feeling that the band hasn't been looking right nor left but going straight for the kill.
Quite different from"If You Don't Shut Up", which is kind of swinging and quite a contradiction to the lyrics. Never has it been said more charming that someone should keep their gob shut or else ... well, the words speak a different language, but the track nails it dead-on. And Ensio Takamäki on harmonica making one of his rare appearances (and also contributing to "Tore Down", but more of this song further down below).
There are a number of guest singers on this album, with Mungo Jerry on "Gonna Bop Till You Drop" which really is an all out Rock'n'Roll feast, what with the piano support and Mungo's exceptional vocals. This is even suitable listening material for fans who usually only listen to vintage material. A bit old time flavour with a twist. I've never ever heard Doctor's Order reaching back in time so far. A killer track! "Just Me, Myself And I" is a typical Doctor's Order song, both feet planted solidly on the ground and taking no prisoners. This is probably the song you get closest to Doctor's Order of yesteryear.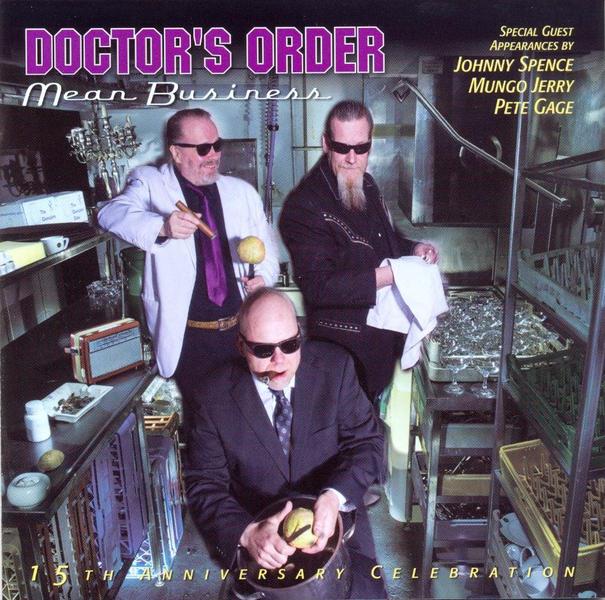 Pete Gage is another guest singer and he's making his appearance on "Stop Sneaking Around". Although this is quite an uptempo song, it's got quite a swinging feel as well. No idea wether this is because of Pete's vocal delivery. Most of the songs are Doctor's Order originals, except the three tracks that feature guest singers (plus a medley, track 15, in the live portion). As I hinted at above, I'm not quite sure what the change is here, but, although "We Do Mean Business" has a 99% Doctor's Order DNA, it has a certain feeling, that comes across like an add-on. I hesitate to say a change of gear up, but a change of gear sideways? Excellent material.
The vocals to "Tore Down" were laid down in, if I remember correctly, not more than three takes. Johnny Spence came in and nailed it. They could have used take one, but on Johnny's insistence, two more were recorded. Of course, the track lets you breathe a bit, and listening to this old standard, you certainly will appreciate the delivery of both the band and Johnny Spence. Class A stuff! I hope Doctor's Order will do another complete album with him. "Great Mick Green" is a heartfelt tribute from Teppo Nättilä to the late Pirates guitarist. And what is it you actually listen to, when there's a song with such a title on offer? No, not the lyrics, you listen to the guitar player. And Grande-Archie Hämäläinen is doing a hell of a job. Indeed a fitting tribute.
I've been waiting for this the last fifteen years or so, and finally, Doctor's Order delivered, an instrumental called "Legato Grande". Quite a change from their menu so far. A kind of slow Blues, well not kind of, it's a slow Blues. I really think it's a step they should have taken much earlier. Apparently, this was coming to be, when Archie was playing about, just noodling something on his guitar and then everything fell into place, more or less. This is the short version, I suppose there was some more work to be done. In any case, thumbs up. Another killer track on an album not short of excellent songs.
"Had Enuff" closes the studio section and, a bit like "We Do Mean Business", harks back to days gone past, especially their debut album. This is actually the stuff I came to associate the band with (back then minus piano, of course). But to me, this is still the spirit the band is thriving on. Six live tracks finish the album. Without going into any details, I think the band was in experimental mood this Summer day in July 2012 in Hungary. It's not like they turned avant-garde here, but there are subtle changes to give an overall feeling of never heard before. I'm still trying to figure it out, but these tracks are just one more shade to what Doctor's Order can do.
15 years of Doctor's Order and the engine is running on all cylinders. As they said in those Volkswagen ads all those years ago, it runs and runs and runs. Here's to the next fifteen years of honest, true to the ground Rock'n'Roll. Or as the band says, "So It Is".

Grande-Archie Hämäläinen - Guitar
Teddy Bear Nättilä - Bass
Mighty Man Oikarinen - Drums
Special Guests:
Johnny "The Pirates" Spence - Vocals
Ray Dorset aka Mungo Jerry - Vocals
Pete Gage - Vocals
Ensio Takamäki - Harmonica
Haari Saanio - Pianos