I admit it, it took me some time to write something about Pete Gage here. As you know from this website, a post Lee Brilleaux Dr. Feelgood simply doesn't exist. Period. I could leave it at that and go my own ways. However, I owe you a few words about Pete Gage.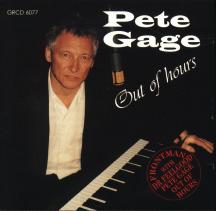 I'll tell you about the first time I saw the line up with Pete Gage. I didn't want to go. It was a very slow Sunday and the band were due to perform that evening in the Atlantis Music Club in Basel/Switzerland. I was bored senseless and about half an hour before the gig started I went into the city, still not expecting to go to the gig. Walking past the Atlantis Music Club, I had a good look inside, and I kid you not, five minutes before showtime, there were about 10 people in there and that probably included the staff at the bar as well. I thought, there has to be at least one more in there, so I bought a ticket and got in. In the end, I believe there were about twenty people present (this place was usually sold out).
I didn't expect anything (literally). No Lee Brilleaux, no Dr. Feelgood (I might have said this before, though). This was an awful experience: After about sixty plus Lee Brilleaux performances I had seen, I was about to witness a band I truly wished didn't exist. A very lonely event as well (ever been to a gig where there are more staff at the bar than paying punters?). Made even more lonely because Lee Brilleaux wasn't there and I was quite angry with this outfit to continue with a name they had no right to use (legal stuff aside). I just didn't want this band, and yet, there I was waiting for them to take the stage.
I believe, the first thing I thought when they came on was, that I was not gonna make it through the gig. I saw Pete Gage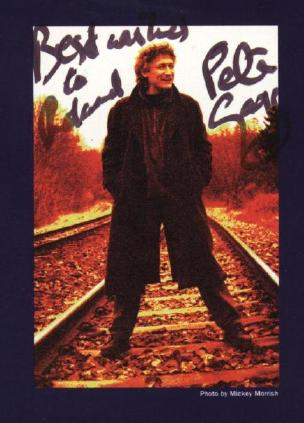 standing there, taking the place Lee Brilleaux had. Well, the band started without asking me what I thought of the whole shebang. I think I watched Pete Gage as close as can be. I doubt he's ever been scrutinized quite in such a way. I was satisfied with him from the very beginning. A very good singer (believable!) with even a few stage routines that reminded me of Lee Brilleaux. Mind you, I'm not saying Pete Gage was copying Lee! He certainly did not! Pete had this very good stage presence that's needed in a job like this (a few performers have this incredible presence on stage, Lee Brilleaux had it, Johnny Cash and Shane MacGowan have it and Pete Gage has it as well). His own stage presence. During the gig I started to think that the band had chosen wisely. Not with regard to their decision to continue, but with their choice for a singer.
I came out of this gig, still not satisfied. But there's a big BUT, they had Pete Gage within their ranks and that was probably the best that could have happened to the band, considering the circumstances. My decision had been made at the end of this gig, I told myself, that I wanted to see further performances by this band with Pete Gage. Not taking in ten gigs in two weeks (as I have done a few times with Dr. Feelgood), but attending performances when they were anywhere within a reasonable distance from my home town. I did this and I was beginning to look forward to see the Pete Gage Band in action. There were a few memorable moments (like, when this woman started to strip on stage and even Pete looked a bit perplexed - luckily, it didn't come to that, she had second thoughts, probably), but they were at later gigs. I used to see a different band from my Dr. Feelgood, but one still worth seeing live. And quite a lot of this had to do with their singer.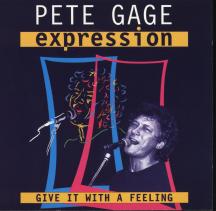 This could have gone on forever and a day, the Pete Gage Band touring and your Dr. Feelgood expert attending one gig after the other. Unfortunately, the band and Pete Gage decided to part ways (with a lot of contradictory information and reasons). And this decision was certainly not for the better of the band. This band is now still touring with their third "singer". My decision to quit going to live shows of the band had a lot to do with the way they got rid of Pete Gage as well as the fact that this is not my band anymore. Plus, can you spell Q-U-A-L-I-T-Y? Mind you, I've seen the current outfit a couple of times, so I know what I'm talking about.
There's a "Dr. Feelgood/Pete Gage Band" release called "On The Road Again" with Pete on vocals. Pete Gage meanwhile, has been gigging with his own Band in various places all over Europe. From Finland to Spain (although, I believe he's never been anywhere near Switzerland since his departure a couple of years ago). I'd like to see him and his current band perform around here one day. Not in the too distant future, I hope.
I think there's a big THANK YOU in order for Pete Gage. Since he's not with the band anymore, he's being put down at every corner you care to turn to and his contributions to the band are belittled if not outright denied. Some folks seem to forget a few facts and get their priorities wrong. But the truth is, all fans of the band (the ones that stuck until he left, anyway) owe him one and should be grateful that he stayed with the band for as long as he did. Your Dr. Feelgood maniac here is not going to forget this and hang his hat any which way the wind blows.
---
There are two CD's (click pictures for larger files). Pete Gage "expression" (1995) (PGE CD 001) is with a full band. When I heard this CD (thanks to Pete Gage and Teppo Nättilä for sending me the CD), I compared it immediately to The Steampacket (band with Long John Baldry, Rod Stewart, Brian Auger and Julie Driscoll - around 1964). I think the whole CD breathes this kind of mid-60's R'n'B (maybe because of the Hammond?). And then, there's also Pete Gage's "Out Of Hours" (1997) (Goofin' Records GRCD 6077), which is a solo outing (piano and vocals). These are mostly blues standards. This is a very enjoyable CD too, as Pete's vocals work very well with the sole use of the piano. I spin both CD's quite frequently in my player (at least once every two weeks - and there are not that many CD's/albums that get listened to so regularly). "Out Of Hours" should still be available and this is certainly a good reason to spend some of your cash.




THANKS PETE !