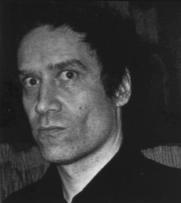 The rhythm-and-blues-evening of the annual Rheinknie session at the Atlantis Club had actually two faces. As much as the first part of the evening was a very nice and laidback swiss blues brew, the second part of the evening surely belonged to the wild, untamed british pub-rock and daredevil rhythm-and-blues. This setup made the differences between the two bands, as to what rockmusic is supposed to be, very clear. Here, the lazy coverversions of old blues- and soulhits and there, the verve of original playing, sharp as a knife. It was like the difference between swiss cheese and british steel and for once the british pound was much harder than the swiss franc.


The band from Basel "Steff And Friends" is quite nice, but very homemade and artificial; here a shot of B.B.King, there some John Lee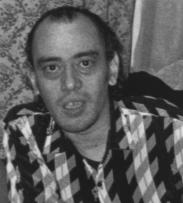 Hooker and then some hair antics à la Keith Emerson. There a pinch of blues emotionality and some soul attitude. But please, always with good manners. Full brakes on, one could say.

But as soon as the "Friends-"drummer had beaten his MDS (mandatory drum solo) it actually started to happen and the evening earned its rhythm-and-blues name. Wilko Johnson and his two fellow fighters stepped onto the stage and off it went like thunder. Merciless british noise of the hard, wild and loud kind. "Music is a thing which you just have to live and be a part of. It just happens and when it works, it's a very exciting thing. This is anti-intellectual music, but it's not stupid music".

Former teacher of literature Wilko Johnson explained once his understanding of rhythm-and-blues and continued when asked about his teacher job: "I got 25 pounds a week to stand in front of screaming kids. I'm doing the same now for more money and I dig it". And when he, almost like a licensed lunatic, runs around on stage and machineguns his rock salvos into the audience, then one can hardly believe that this guy had "a decent job" once. His show is too much out of this world, too authentic are the furious songs blasting from the loudspeakers.
He's supported at his teenage insanity by Salvatore Ramundo (drums) and by the brilliant Norman Watt-Roy (bass). Together they produce a one-of-a-kind rhythm-and-blues of the highest order. Maybe, one should say finally something about the loudness; it was loud, but nowhere in the red. These kind of R'n'B bands would have played bigger venues in shorter time empty, not quite so long ago.
This appeared in the Basler Zeitung (minus the scans) on October 22, 1994 and is written by Rene Matti (Translation by me, sorry again!)
---
A lot has happened to the Atlantis Music Club in the intervening years. The former owner went bankrupt. The club has been pushed to a more fashionable level (and has lost some of its magic). The interior has been slightly changed. You have to get your drinks at the bar now. And the price for beer has gone up. Two things are still the same though, you're still wading through water in the loo and Wilko Johnson is still the same old master on the telecaster.

250 people in attendance would be a good guess. A packed Atlantis should count about 400 people. It made for room to move and breathe and it also kept the temperature down. Ideal settings for the upcoming event. The fans went everywhere from being hardcore fans from the very beginning, when Wilko was in Dr. Feelgood, to some recent additions. Unfortunately, there was no stall set up to sell merchandise. Guess, the new CD is still some way off.

9.20 pm, the band was announced as having come to Basel because there were a few hardcore fans rumored at being around. And with this, the band took the stage. Ninety minutes of your trademark Wilko Johnson sound was just about to happen. Their drummer was a replacement for Monti, who seems to be on tour with his own band. According to Wilko's introduction of the drummer (in german, nevertheless), it was his first gig with the Wilko Johnson Band. He was watching Wilko and Norman very closely throughout the gig and didn't seem to comfortable at he beginning. Only towards the end of the gig did he loosen up. A very good performance of this young drummer.

Wilko was looking very good on stage and seemed to enjoy himself. His guitar seems to have seen better days (I sat right in front of him, no two meters away), but if he likes to play an antique, so be it. The result speaks for itself. If you've never seen Wilko Johnson live, you just can't start to imagine how much this man is in command of a gig. I'm not even talking about his "machinegunning" the audience or the "manic" stare, it's him on stage. I think, he's, what psychologists call, an alpha animal. The intensity was held up throughout the whole 90 minutes plus.

Norman Watt-Roy being the expressive bassplayer that he is, clicked very well with their drummer (or so it seemed) and I had the feeling, that the drummer actually assured himself more towards Norman than towards Wilko. That could be a given, since the rhythm section depends very much on each other in every band. Of course, to anyone who's heard live recordings of the Wilko Johnson Band, it comes as no surprise, that Norman has quite a lot of room to move (musically speaking).

Highlights? The whole 90+ minutes, nonstop. "Don't Let Your Daddy Know" being especially a favourite of mine. "Dr. Dupree", which I sang as loud as I could (the woman at my right must have wondered about me. I drew some strange looks). "The Beautiful Madrilena" with its change in pace. In short, a gig filled with all the goodies that you might want (except that it could have gone on twice as long, minimum). When Wilko announced that they were now playing some Jazz, he caught the audience on the wrong foot. For a second or two, you could have heard the proverbial needle drop. And then he broke out into a familiar Chuck Berry riff and duckwalked right across the stage. I mean, I'm a big Jazz fan as well (free and avantgarde), but give me a break, Wilko. I'm not getting any younger and my heart skipped a beat or two.

Three encores, the last we had to earn the hard way. A good audience. Very appreciative. Whistling, clapping, screaming, the works. They were right there with the band from the very beginning. At about 10.55 pm it was all over with "Route 66" having been played as the last song.

I went to another bar, just to have a few more beers (and get down again. I needed to have firm ground under my feet), and left pondering one question: Did they play "Roxette"? Yes or no? I don't think so, but I realised to late, that I was so immersed in this gig, that I didn't even note the setlist. It didn't really matter though, as I was more than satisfied. Thank you Wilko Johnson for this gig. We all had seen a gig to remember and we probably all wished that the Wilko Johnson Band would be back in town soon. Eight years is an awfully long time. Don't wait that long anymore, please!