DOCTORS IN DISGUISE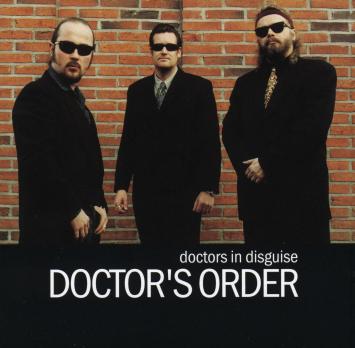 Doctor's Order have released their first CD of hot rocking R'n'B and mean Rock'n'Roll. See what this is all about by clicking on this link. Unfortunately for you, the CD has been sold out. Completely. Totally. Please do not ask me for a copy, I've none to sell. I don't know wether Doctor's Order will consider a second run of this album, if so, you can read it here, guaranteed!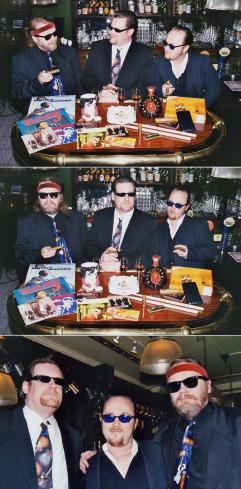 Doctor's Order had a line up change. The Madman gave way to Dirty Harry. Thanks Timppa for your contribution to a great rockin' band. I think these three (sometimes four) guys fit the hand like a glove. Unfortunately, Timppa chose to lead a quieter life (is that right?), away from Rock'n'Roll. Take care Timppa, and all the best!
Doctor's Order have a soundboard series available. A few gigs are going to be recorded straight through, yes, the soundboard, and made available on CD-R. You can buy them directly from their website. Vol. 1 and 2 are available now (Vol. 1 is dated from May 16, 2003 at Rocker's Club in Oulu/Finland and Vol. 2 from June 26, 2003 at the Lakeside Blues Festival In Järverpää at Zapata Club). If you haven't seen a recent gig of this power trio, then, this is your first chance to hear Dirty Harry (what a name!) plowing his way through a set of Doctor's Order classics (and a few covers).
Plowing doesn't do him justice though, to my ears, Dirty Harry is quite a different drummer as opposed to The Madman, but judging from the Oulu gig on CD-R, he's a drummer that can contribute to Doctor's Order in his own special way. Welcome Dirty Harry!
July 21, 2003
Thanks to Doctor's Order for the pictures on the left (click for larger files - I've left them in the original size - perfect as a wallpaper for your computer - and cool stuff at that). That's Lil' Archie, The Madman and The Teddy Bear in 2002. Probably celebrating the end of recording and mixing of their second CD.






---
Doctor's Order hail from Finland and play exactly the kind of hard driven R'n'R and R'n'B that you are looking for. A number of CD's are available directly from the band. I've put most of the information about Doctor's Order on these few pages (through this link here). This leads you straight into the recommended section. Old information from the news section on Doctor's Order can be found here. Doctor's Order have re-released their first CD with 11(!) bonus tracks, comprising of recordings live at "Radio Mafia Roots Evening".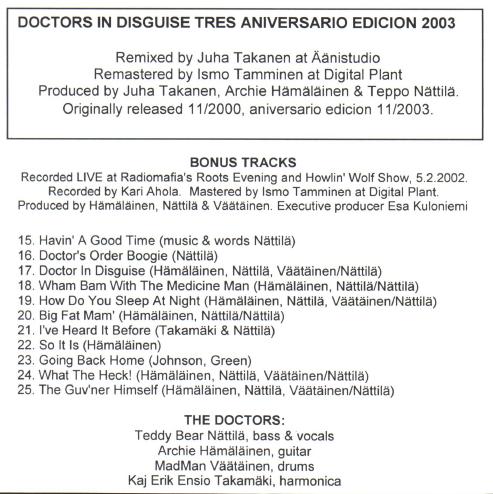 Before I forget it, start saving your change for the upcoming third studio CD. The band has already written a good sized chunk of the songs that'll be on the new release and I believe they will be in the studio sometime during the first half of 2004. Up to date information as I get it.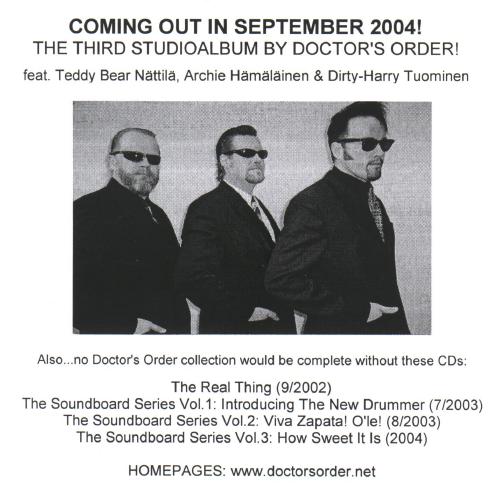 How Sweet It Is has been released (DOCCD4003). Despite of what it says in the scan above, this is not part of the soundboard series, but rather a seperate release. The release is availabe for EURO 15.00 (please send cash to the address mentioned on my Doctor's Order pages or directly on the band's own website). Postage is included in this amount.
---
Yes, they've done it again. Messrs. Hämäläinen, Nättilä and Tuominen have released their latest opus called "Shut Up, Doc!" (DOCCD 3003). It's on sale now and you can buy it at the usual address (see the special Doctor's Order pages on this website) or visit the band's own (also through the above mentioned link)..

GBP 10.00 or EURO 15.00 including postage per copy (cash only). And to make the deal complete, you not only get the sensation of the band tearing your place apart, you'll have something to read as well (world class liner notes by yours truly). Did I already tell you that I'm really a most modest guy?

Here are a couple of statements about this release. If I only knew what the front picture of the booklet reminds me of? Psycho? This is driving me crazy!