Wilko Johnson
New Releases

Wilko Johnson has released a new studio
CD, "Red Hot Rocking Blues", on September 10, 2003. This has been available in Japan only until now (2005). Thankfully the CD has been given a wider distribution worldwide. The CD can be bought now on Jungle FREUDCD083 (UK) from major mailorder dealers or your friendly neighbourhood record shop. The inlays are completely different however. That means, you still need to buy the version from Japan, because, otherwise you'll be missing out on Yuriko Daikoku's liner notes.

The review on the right is from the June issue of Record Collector magazine (U.K.). Thanks to RC and to Daryl Easlea for this piece. Your support is very appreciated.

A rather new release seems to be the Ian Dury & The Blockheads DVD "Hold On To Your Structure - Live At The Hammersmith Odeon - Our Favourite Venue" (previously available on video). This features Wilko on two tracks, namely "Sweet Gene Vincent" and "Blockheads". This is an EMI release 07243 490893 9 6 (made in EU). Exellent quality and a performance of Wilko that makes you smile all the way to work. Recommended stuff!

Wilko Johnson can also be seen on a DVD included with the "Dream Box" by Sheena & The Rokkets. Wilko is on one track only (and in the intro). The box consists of two CD's and one DVD and is a japanese release only on Victor VIZL-81. The guitar player is Makoto Ayukawa (London Sessions # 1 and 2) and I believe Sheena (the singer) to be his wife. You'll enjoy this one, even if there's not much Wilko throughout the box set.

Wilko Johnson, with Monti and Norman, works on rerecordings of some of his old tunes and there might be some kind of "Best Of Part 2" in the pipeline. These should be songs that were not used on previous "Best Of"-releases. A street date is not yet fixed and it just might be on Jungle again. Please check the official Wilko Johnson website for updates in this matter.

August 13, 2005
---
Dr. Feelgood
New Releases
Today a promo (Audio only) found the way to my mailbox. Dr. Feelgood "Going Back Home - Live At The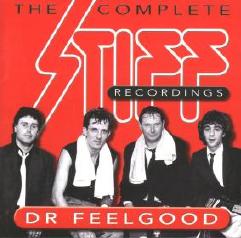 Kursaal, Southend 1975". The commercial release will also have a DVD included (1975 vintage as well) and should be in the shops as from today. The whole package has been released by EMI. Here we go!
January 31, 2005
Another(!) compilation of vintage Dr. Feelgood has been released. This here is called "The Complete Stiff Recordings". For what it's worth, they could keep their endless recycling of old stuff, except that here we get the "Crash Your Car Megamix" which was otherwise not available in any more decent form than a tape. Congratulations to Grand for offering us this piece. Thumbs down for selling us the same songs, we have already ten times over, in the process. Very good booklet with lots of information (and a cover shot that's from the "Mad Man Blues" album and has nothing to do whatsoever with Stiff).
January 7, 2006
---
Bootlegs
As far as I know, there've never been any Dr. Feelgood Bootlegs on vinyl. This is the year 2004 and up pop not one, but two of these items. Both are described to be of EU origin. I doubt this very much and suppose the manufacturer is rather to be found in the Far East. Item # 1 is an LP called
"Boom Boom - Unreleased Hits '74-'76"
Unreleased Live Recording U.S.A. 1976
Black sleeve with a logo sticker
The second item is an LP called:
"Route 66 - The First Sessions"
Promo Only - Not For Sale
White sleeve with a photocopied A4 insert
The way it goes with bootlegs, this is of course neither unreleased (previous bootlegs on CD) nor a "Promo Only". Genuine Dr. Feelgood bootlegs are very thin on the ground, so this is a surprise. Will we see a Dr. Feelgood bootleg revival? Only time will tell. Let's see.
Just when I thought I had seen everything there is to see on the bootlegfront, I'm informed that a Wilko Johnson Bootleg (vinyl / LP) has popped up on the market. This is called:
"She Does It Right"
Great Rarities
Black sleeve with a Wilko Johnson sticker
"Great Rarities" just being the subtitle of the album. There are no great rarities (at least not on this album). Looks like this bootleg is from the same source as the above two Dr. Feelgood items.
November 22, 2004
---
Wilko Johnson
SKOH (Wilko Johnson - Some Kind Of Hero Newsletter April/May 2000) speaks of Steve Hooker being in the process of finalising a deal to release two of Wilko's appearances from the BBC "In Concert" Series. These will probably be the Solid Senders broadcast from April 1980 and the Wilko and Lew Lewis one from November 1982. The release will be on Vinyl Japan Records. Good news indeed! Also, Wilko seems to be working on a new studio album with the working title "Red Hot Rockin' Blues". Would be indeed excellent if this will see a release soon, rather unexpected I'd say. "Going Back Home" is still rather fresh. Hey, I'm not complaining! At the time it is hoped that the band's back catalogue will also be included in the new deal (let's hope for the best).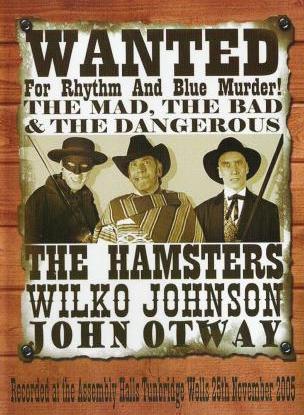 Finally a Wilko Johnson DVD of sorts has seen the light of day. I suppose we all have been waiting for the master of the telecaster to show up in sight and sound on our TV screens. As there is no legally available footage of the Wilko Johnson Band out there, this is a very welcome addition to anyone's collection. Recorded during "The Mad, The Bad & The Dangerous" tour, this is actually from their November 25, 2005 performance at the Assembly Halls Turnbridge Wells.
As this was a package tour, you'll also get John Otway and the Hamsters. Not a bad choice to serve the real stuff. I have to admit, this just came in and I haven't seen it yet (I wanted to have it on the website without delay), so there's no comment as to the quality from my side so far. The tracklist looks impressive with "Don't Let Your Daddy Know", "Dr. Dupree", "Back In The Night" and "She Does It Right" making an appearance among other tracks from the Wilko Johnson Band.
The DVD is called "Wanted For Rhythm And Blue Murder! The Mad, The Bad & The Dangerous". The whole thing has apparently happened on Monti's insistence (and has been mixed and edited by him as well). Thanks a bunch to Monti for releasing this. Appreciated no end, as you can imagine! The item doesn't have a catalogue number, so I suppose it's not in the usual distribution channels and I don't have an address where to buy it from (don't worry, this is a regular release, nothing illegal). I can only advise you to check out the internet.
September 3, 2006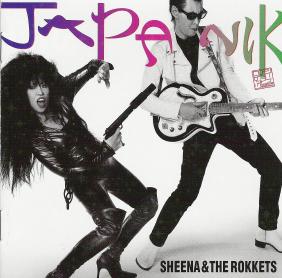 Sheena & The Rokkets release for their 30th anniversary is on sale as of April 23, 2008. Over the years, Wilko Johnson has taken part in many recordings of these rockers from Japan. You can hear him on their CDs and see him on their CDs.
Here, Wilko has contributed one of his unreleased songs to be covered by Sheena & The Rokkets. This is "I Can't Get Across To You". Of course, it takes some time getting used to hearing a Wilko Johnson song that you haven't actually heard by the man himself. Just to spell it out, Wilko is not recorded in any way on this take. Nevertheless, you as the die-hard Wilko collector need this release of course and, I can tell you, it's a very fine slice of rock.
There's probably one major obstacle though, you need to order it directly in Japan, as I'm not aware of a retailer stocking Sheena & The Rokket releases. If you can fall back on an excellent dealer, they even might order this for you. Support you local record shop!
May 1, 2008